When you are traveling, five areas seem to pop out as money suckers or money savers. Since we've been flying around the country a lot lately I thought I'd share 5 travel tips you need (from my perspective). These are mostly generic tips but are probably most suited to those who are in the AARP category.
1. Leaving on a Jet Plane
The first step is booking a flight that fits your budget and time-frame. We've worked hard to accumulate charge card points ('oh yeah, let's buy that, it'll get us more points!'). With our move and setting up a new household, it was pretty easy to swing the purchases through our card and now we're enjoying those benefits. My tip for this would be to carefully, CAREFULLY read the itinerary for your flights before clicking submit! If you don't you could book an early morning flight out of Austin with a flippin' 10 hour layover in San Francisco! Thank the Lord we were able to find two seats on an earlier 100% booked flight. Phewwww!
We aren't crazy about checking bags even for longer trips. Our stay in Palm Desert was 11 days and we successfully packed a carryon and under-seat bag each. Plus, there were things I brought I didn't wear. I'm working on the 'fear of not having enough choices' (FONHEC) so that I'll have room in my bags to bring things home! Since I'm flying up to cooler temps in Washington this weekend, I'll be 'wearing' my jacket. It might be around my waist or slung through my bag, but that will save precious carryon space. Some people like to roll their clothes rather than folding them. If you've got the time, try it both ways. I've found rolling isn't always best. Rolling can wrinkle!
2. Home Away from Home
Where you stay can be critical to the success of your trip. If you're fortunate enough to have friends or family with space for you, that will save you tons of money and add to the richness of the memories of your trip.
However, if that's just not possible, I've found that using the AARP Travel Center (hooked up with Expedia) is great for finding discounted deals for you. We stayed at a sweet Holiday Inn Express in Palm Desert for under $100/night. That included a full hot breakfast, fridge/microwave, and a pool and hot tub. It was clean, friendly, comfortable and the place we'll go back to when we want to visit the desert again.
3. The Hotwheels
Rental cars aren't always necessary, but when they are those 4-wheeled machines can take a big chunk out of the budget. We tried something new with the Cali trip. AARP Travel Center came through with some great prices and good companies. We went with Alamo. It had the most stars but we don't live very far from the real one, so thought that was a good sign! And, they had a 'surprise' car deal for $22/day. We didn't find out till we got there what type of vehicle we'd get. We lucked out with a Nissan Altima. It had cool wheels, a sunroof, and all the other extras. We felt so cool driving those Hotwheels around. The Alamo rep did tell us that you get what you get. We lucked out I'm sure, but it was so worth it!
4. Eating In or Out
And, In-n-Out! And, Del Taco! One of my tips regarding food is to eat at a no-tip restaurant an average of every other night. Then, find out from friends, family, hotel staff, or locals you chat with which restaurants are the good ones. Next, go and enjoy them! We also saved on our food budget by stocking our little mini-fridge with lunch fixins, snacks, and fruit from breakfast.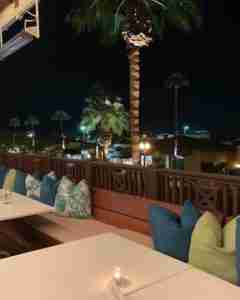 While we were in Palm Desert we loved Cactus Jack's Bar and Grill (the pastrami sandwich was killer). Oh, another tip is to split your dinners. Leftovers don't really work when you're traveling. One warm evening we had a delicious birthday (Rick's) dinner outside at Tommy Bahama. We loved the quaint Red Kettle up in Idyllwild and Don Diego's Mexican Restaurant had the best margaritas in the whole world!
5. Enjoy the Surroundings and Your Time
Last but not least, have a good time where you are! Lay around the pool, read/listen to your book, take naps, and if you're in the mood, check out some of the surrounding sites. We did a day trip up into the San Jacinto Mountains to visit the rustic town of Idyllwild. It reminded us of the Cascade Mountains up in Washington. Another day we drove the opposite direction out of the Coachella Valley to Joshua Tree National Park. This area was worlds apart from Idyllwild, but the beauty was breathtaking. The trees in both places were so intriguing. Many photos were snapped on my phone!
Your Turn to Share
What are your travel tips? What type of vacation do you like to take? The Quiet Hollow relaxing type or are you more adventurous and ambitious? Or, maybe you prefer staycations! Whatever type you land on, remember to set aside some time to rest. Rest is such a good thing. A necessary thing for our bodies and souls.
He lets me rest in green meadows; he leads me beside peaceful streams. Psalms 23:2
Finding a new purpose in living and joy in the day-to-day was the goal when author Kathy Rowland and her entire family (adult kids and grandkids) moved from the PNW to Texas several years ago. The focus of Quiet Hollow is to encourage 'next chapter women' – those who are retired, empty-nesters, or have found themselves without a spouse to jump back into life. And, she shares multiple tips, ideas, and possibilities toward that end. Kathy completed her almost 30 years as an elementary teacher and hopped into over a decade of volunteer work, side hustle-type businesses, and grandchild care before discovering her unique and fulfilling purpose for the next chapter of life. What you read on Quiet Hollow is a large part of that calling. Another part is the happy life she's leading in Central Texas in the same neighborhood as the 3 big kids and her 5 grandkids. She and her college sweetheart husband made sure to add a pool to their new Texas home, so there are lots of noisy, splashy days in their little oasis of a backyard. Come join her on Quiet Hollow in a conversation about finding and living the life you were created to live in this later stage. The chats will be full of laughter, support, faith, and inspiration to create.